VOYCE Youth Spearhead Implementation Efforts,
Push for Further Reform as "SB100" Takes Effect in IL
After two-year effort to secure nation's most comprehensive school discipline
reform, youth shore up their victory
Read about SB100 and its impact:
"Illinois Issues: Rewriting The Rule Book," NPR
"The Principal behind the Principle of School Discipline," NPR
"New Law Means Schools Must Limit Long-term Suspensions" Chicago Sun Times
VOYCE youth launched a Know-Your-Rights community education campaign this month to inform parents, students and school stakeholders about their new rights and responsibilities under SB100 as the law takes effect this school year. VOYCE student leaders worked for two years to pass the new law, which ends zero tolerance and limits suspensions and expulsions in all publicly funded schools in Illinois while promoting restorative alternatives. The ground-breaking new policy applies to both charter and neighborhood schools and ends forms of student pushout such as 'counseling out' and discipline fines.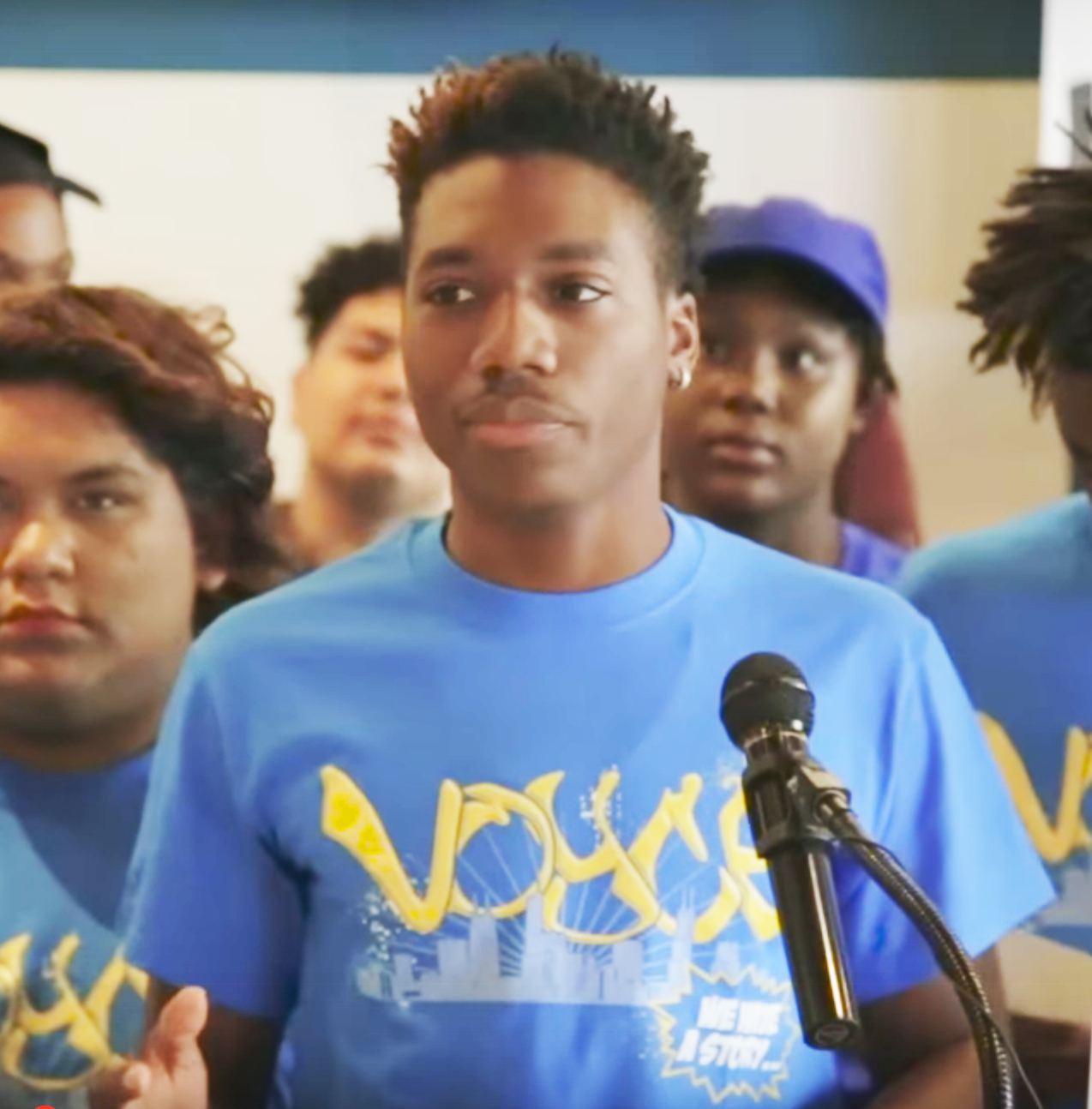 Watch video of VOYCE leader Dantay Williams' statement here!
Film credit: Jack McClain, Circle M Films
"I once got a detention because my phone alarm went off—in the lunchroom before school even began. I got a detention and had to pay a $5 fee! That may not seem like much, but it could mean bus fare or food on the table," said Natalia Aguilar, a former charter school student and VOYCE leader who shared her story with legislators to educate them on the need for SB100. "The 'discipline' culture was so stressful, I had to transfer out."
The launch was followed by a Know-Your-Rights training with the Chicago Lawyers Committee (CLC), a VOYCE partner which has provided administrator trainings on SB100 across the state through the Right on Justice initiative and the Transforming School Discipline Collaborative to train over 700 school administrators thus far. "I have seen SB100 create opportunities for important conversations about discipline and equity, said Candace Moore of CLC, "These conversations are what will change hearts and minds and lead us to do what is necessary to achieve fair, inclusive, and equitable schools in Illinois." Click here for Moore's full statement.
These trainings are part of broader implementation efforts, all of which are informed by a racial equity lens. This includes the following activities:
Holding statewide administrator academies on SB100

Building

local capacity to reform discipline practices and eliminate racial disparities

Creating a model code of conduct for districts statewide

Partnering with Alternatives Inc. and the Chicago Teachers Union Quest Center to release "A Teacher's Guide to Building a Restorative Classroom"
---
VOYCE Is Not Stopping There!
Youth are building on this momentum to end the unnecessary arrests of K-12 students
SB100 lays a strong foundation for youth-led systems change to further dismantle the school-to-prison pipeline. VOYCE youth are building on this statewide momentum by building support for the "Educate Don't Incarcerate" campaign, which would change policy to end the unnecessary arrests of K-12 students.
According to CPS data, there were 4,168 documented "police notifications" in the 2014-2015 school year, instances in which schools contacted the police in response to student disciplinary issues. Forty-eight of those cases targeted pre-k to 2nd grade students. The Educate Don't Incarcerate Bill encourages districts to reallocate funding from school-based law enforcement personnel to restorative practices proven to promote safe, supportive and healthy learning environments.​
Antonio Magitt, a senior at Roosevelt High School and a student leader with VOYCE, knows first hand why this is so important. "I was arrested and expelled in 8th grade for being in the hallway. I was on my way to see my counselor but the officer didn't bother to ask!" Antonio said, "If we invested in counselors instead of police in our schools, maybe students like me would see the inside of a counselor's office before the inside of a jail cell."